SureShotFX Trade Copier: manage forex account effortlessly.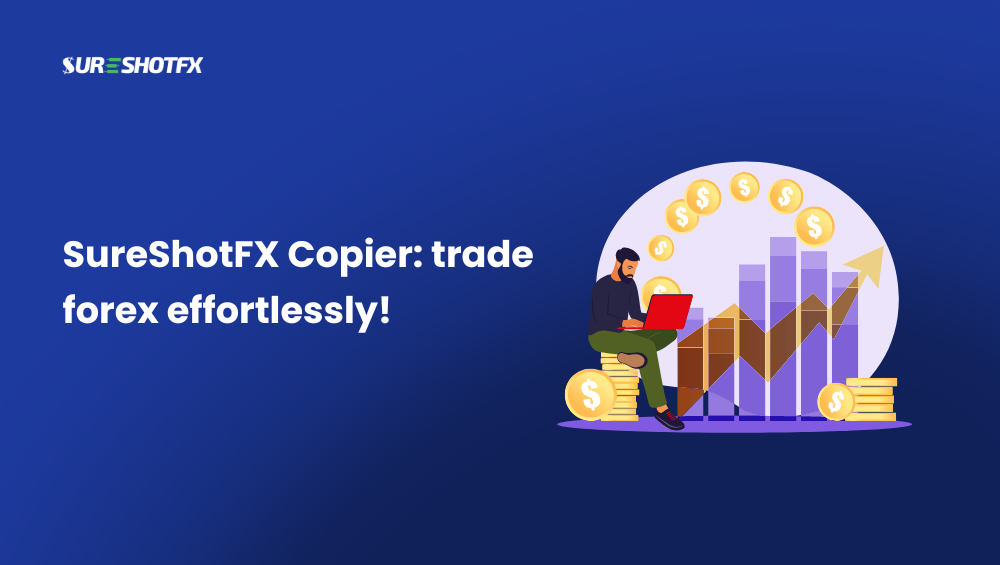 Are you tired of monitoring your trades 24/7 just so you don't miss any trade or trade updates? We all know Forex trading manually calls for continual market monitoring, which could possibly be challenging and time-consuming.
Hence, we designed a software just for you to trade instantly without monitoring the whole time. You can now trade forex instantly and automatically. By copying the trades of experienced traders of SureShotFX with SureShotFX Trade Copier.
SureShotFX Trade Copier-What's That?
You can simply copy forex VIP signals from the SureShotFX VIP channels to your trading account using SureShotFX Copier. Once the trade copier is set up, it will automatically copy forex VIP signals by our VIP channel you subscribe to, making forex trading simple and hands-free.
How Does the SureShotFX Copier Work?
The SSF Trade Copier has been designed with the best features for effortless copying of our VIP signals. Here's a detailed look at how it works:
You simply connect this trade copier to your MT4 or MT5 trading account. It's compatible with any broker.
Subscribe to any of the SSF VIP Telegram channels and the trade copier will automatically copy every signal from that channel to your trading account.
You have full control over your risk management. Choose to copy with fixed or dynamic lot sizes or set a percentage of your account balance for each trade.
This trade copier allows you to ignore or set special lots for specific currency pairs you may not want to trade.
Get Telegram notifications whenever the copier executes a trade so you can stay updated in real-time.
Sync up to 2 live accounts and 1 demo account for maximum flexibility.
Automatically apply spreads for more accurate copying.
Watch this step-by-step video to see the SSF Copier in action: Click This⬇️
The main benefits of using the SSF Trade Copier are that it copies signals rapidly, gives you tools to manage risk, works with all brokers, and makes trading fully automated. You get to reap the profits without having to trade manually.

How the SSF Copier Automates Your Trading?
The SSF copier links to your MetaTrader 4 or MetaTrader 5 account after a quick one-time setup. Once connected, it monitors SureShotFX's VIP Telegram channels for new trading signals.
When a professional trader in the VIP group places a new trade, the copier instantly duplicates it in your own account. This happens automatically 24/7, even while you sleep.
You'll get the full benefit of proven strategies from trading experts. Their discipline becomes your discipline as their trades are mirrored into your portfolio.
Affordable One-Time Payment for Lifetime Access.
Things To Be Noted:
The SSF Copier is available for a reasonable one-time payment of only $64. This grants you, a lifetime access with no recurring fees. This also includes one-free setup assistance.
To use the copier, you'll need to purchase a VIP signal subscription separately, or open an account with one of SSF's recommended brokers to get the VIP signals and the trade copier for free.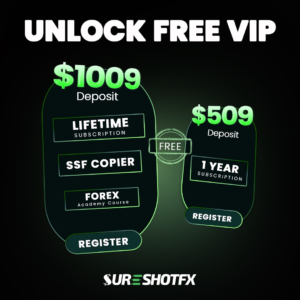 For smooth & uninterrupted execution, you'll need a Windows PC/laptop with a stable internet connection or a windows VPS.

Key Features of the SSF Copier:
Copies trades from multiple SureShotFX VIP channels
Works with any broker you choose.
Lets you filter out currency pairs.
Executes with fixed, dynamic or risk-based lot sizes.
Syncs across multiple accounts
Provides Telegram notifications.
Supports partial close orders.
Auto calculates spreads.
Lot & Risk Customization features.

Benefits of Automated Copy Trading:
The SSF copier provides many advantages over manual trading.
Hands-free execution 24/7.
Leverages skills of professional traders.
Removes emotion from trading.
Saves time watching markets.
Consistent application of proven strategies.
Flexible risk management options.
Suitable for beginners and experts alike.
How to Use the SSF Copier: Using the copier is simple:
Purchase access to the SSF copier for a one-time $64 lifetime fee.
Subscribe to a SureShotFX Forex VIP signals or Gold Signals Telegram channel.
Install the copier software on your Windows PC or VPS.
Link your MetaTrader account(s) during setup.
The copier automatically copies every trade going forward.
No more manually entering trades based on signals! The SSF copier does all the work for you with its set-and-forget automation.
Frequently Asked Questions
1. Do I need to pay for signals to use the Copier?
Yes, you'll need to purchase a VIP subscription and the copier software to use the service. The copier is a one-time $64 payment for lifetime access.
2.Can I set up the copier on my phone? 
No, you'll need a Windows PC or VPS since the software requires Windows. But you can monitor copied trades from your phone.
3.Can I use the copier on my laptop?
Yes, you can use a Windows laptop as long as you keep it running during trading hours for the copier to function.
4.Does the copier work on Mac/iOS?
No, the copier requires Windows, so you'll need a Windows VPS to run it if you are on Mac.
5.How many accounts can I sync with one copier? 
You can connect 2 live accounts and 1 demo account to mirror trades.
6.What is required to run the copier?
You'll need to keep the copier software running on a Windows PC/laptop or VPS with a fast stable internet connection.
7.Can I run multiple VIP channels on one copier? 
Yes, you can run several channels on the same copier to copy signals from different sources.
8.Does it work with any Telegram channel?
No, the SSF Copier is designed to only copy signals from SSF's proprietary VIP channels.
9. What is the drawdown?
-The copier itself does not have any drawdown as it simply mirrors the trades from your subscribed channel.
10. Is the SSF Copier safe and secure to use?
Yes, many clients successfully use the copier with great satisfaction.
11. Does it follow all trade updates like partial closes?
Yes, the copier is programmed to follow any updates from the VIP channel including partial and half closes and full closed.
12. Can I use it for prop firm challenges?
Yes, you can use the copier for prop firm challenges as long as they permit the use of copiers. SSF signals are sent over Telegram so prop firms can't detect copying.
Reliable Customer Support:
SSF's dedicated support team works tirelessly to solve any copier issues efficiently. Their remote support service is available Monday-Friday during trading hours. SSF strives to provide excellent customer service with helpful and knowledgeable support heroes ready to assist you. After the initial free setup support, additional remote copier support is available for $20 per 3 sessions. So, yes. You'll never be left stuck.
Trade forex automatically with the SSF Copier. The one-time payment gives you lifetime access to this powerful tool that copies trades of seasoned professionals into your account. Take your trading to the next level with automated copying and start earning profits the easy way with SSF Copier! 😎