Best US30 Nasdaq Telegram Signals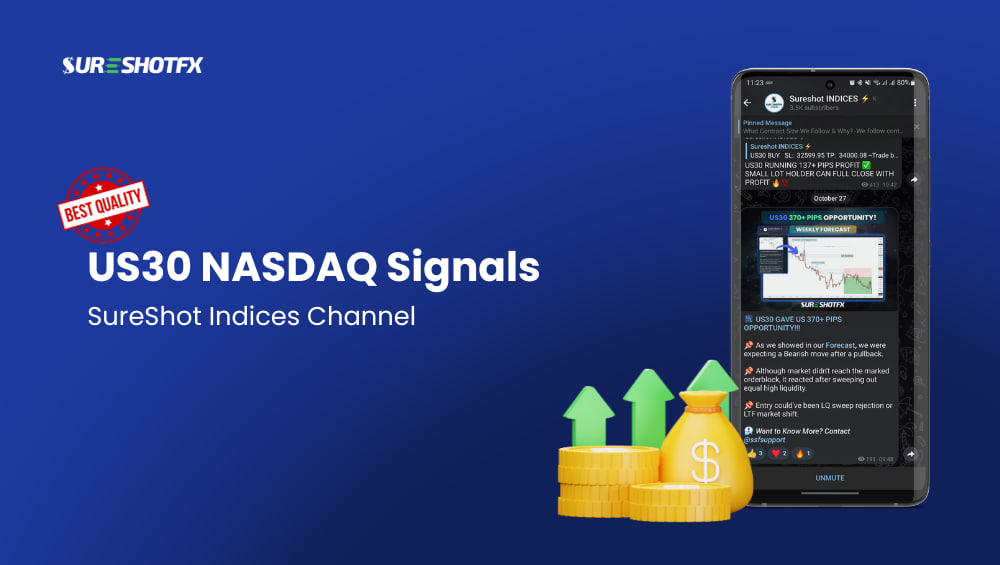 SureShotFX is one of the leading providers of free forex signals. We know how hard it is to start forex with a low balance, but you gotta start somewhere, right? SureShotFX understands this pain of any new trader. We share free forex, gold, us30 signals and Nasdaq signals on our free channels on a regular basis. Only to help traders start their forex trading journey.
Firstly, we can understand that consistently profiting from forex trading requires skill, experience and a good chunk of your time invested. Therefore, SureShotFX makes sure that traders get best service and best value from us. Currently, SureShotFX has three separate FREE Signals Channel on Telegram that you can join –
❇️ Forex Free Signals
❇️ Gold Free Signals
❇️ Free US30 Signals & NASDAQ Signals

We always try to send regular free telegram signals in our free channels. Recently, in March 2023 we have launched our Indices US30 & Nasdaq Free Signals channel on telegram. We provide 2-3 free US30 signals and NASDAQ signals on our free indices channel each week.

Additionally, we have 7-12 experienced forex traders with more than 5 years of trading in the market. They identify high-probability setups and deliver clear and concise instructions for each signal, so you can be confident that you are making the right trades.
The Proof is in Our Results
Our journey to success is founded on providing free telegram signals to traders, giving everyone access to valuable insights. We've consistently demonstrated our ability to deliver astonishing accuracy. With a superb Trustpilot rating of 4.3, we have established a reputation for reliability and profitability.

SureShotFX have always promised and ensured consistency throughout our journey. And yes, we are committed to gain over 800+ Pips weekly with our New Indices Signals Channel.

This ain't any clickbait. Since the launch of our Free Indices Channel in March 2023, we have provided nothing but immense value to all our traders, providing over a whopping 9373 PIPS in profit for FREE!
| | | |
| --- | --- | --- |
| Pair | Entry | Profit / Loss |
| US30 BUY | 33666.60 | 135 PIPS |
| US30 BUY | 33641.80 | 136 PIPS |
| US30 BUY | 33252.20 | 137 PIPS |
| US30 BUY | 33009.20 | 135 PIPS |
| US30 BUY | 32937.70 | 136 PIPS |
Last 5 Free Indices Signals

These results demonstrate our ability to pinpoint profitable setups across all market conditions and setups. Whether it's Forex, Gold or US30 signals and Nasdaq Signals, SureShotFX has got your back with profitable telegram signals. Our strategic approach combines technical and fundamental analysis with robust risk management.

Apart from our US30 signals, Nasdaq signals- you can also see how our forex and gold signals have performed over the past month-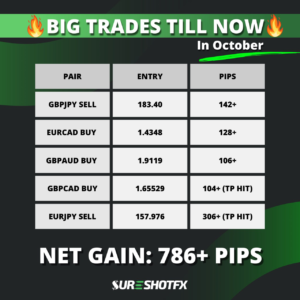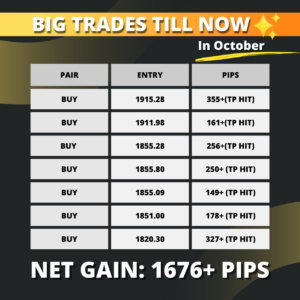 SureShotFX is committed to providing you with the best trading experience, which is why we maintain the same value in our free signal channels that we do in our VIP. You will not only get FREE signals, but also receive further trade management updates from our free channels. These updates include, close half, partial and full close updates. This is to make sure that you can also gain the same number of profits as our VIP members!
Do You Need to Pay for US30 Signals or Indices Signals?
You might be wondering with our proven track record and weekly profits how much do we charge? Well, it's free.

Yes, you heard it right. SureShot Indices Channel signals are FREE of cost. At SureShotFX, we've shattered the traditional barriers by offering our high-quality signals absolutely FREE of charge. That's right!

This means that you can take advantage of our weekly 2-3 free signals as long as you want. We believe in making profitable trading accessible to all, and this commitment drives our mission to provide free, reliable signals.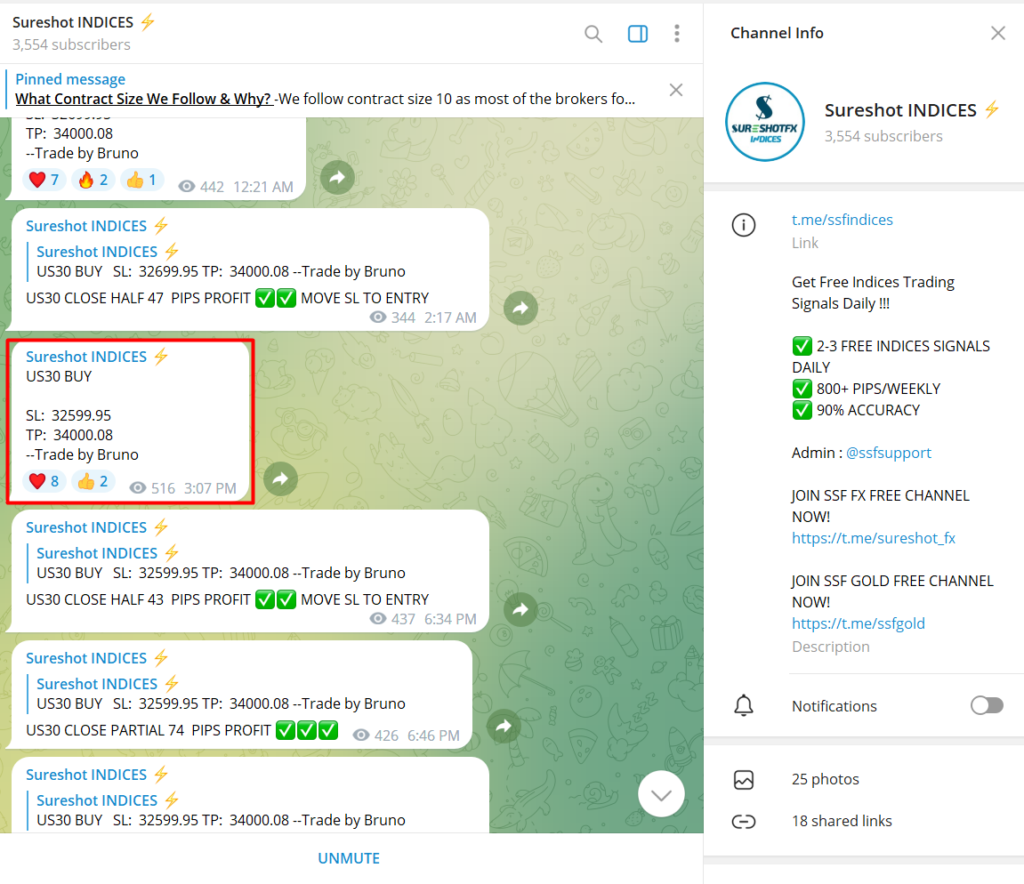 Trustpilot Rating
You don't have to take our word for it. Our Trustpilot rating speaks volumes about our reliability. With a rating of 4.3, we've garnered the trust and satisfaction of our clients. This rating reflects the experiences of traders who have benefited from our premium forex and gold signals. You can also check our free channels of FX and GOLD to see 100+ VIP client reviews. We are proud to have established two exceptional signal services, specializing in Currency and Gold, and we've been serving satisfied clients for over three years.

We also share our analysis and forecast every week in our free channels. You can check our recent weekly forecast updates from these links-
[1] Forex EURAUD Analysis
[2] Gold Analysis
[3] US30 Signals Analysis
How to Use SureShotFX Free Forex Signals Channels?
To use our free telegram Forex signals channel, simply join the SureShotFX Telegram channels from the links shared above. Once you have joined, you will receive real-time signals from our team of analysts. Each signal will include the following information-
-PAIR NAME
-ENTRY CONDITION/MARKET ORDER
-SL & TP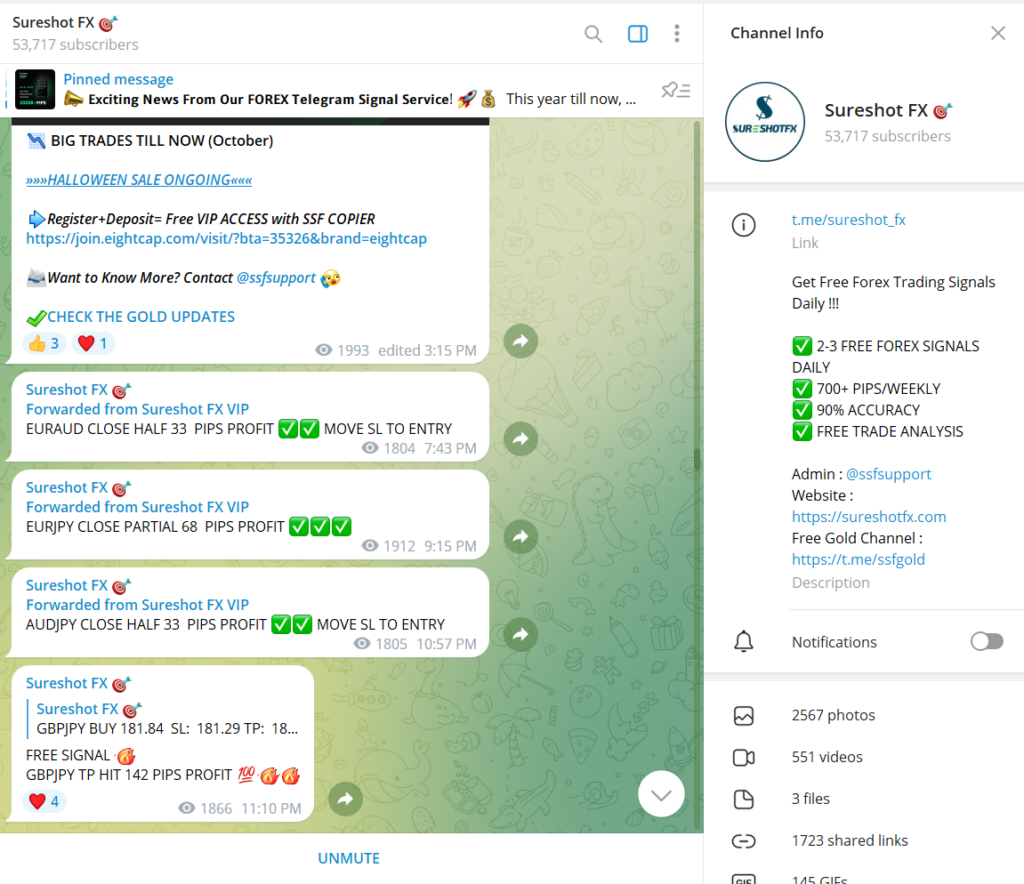 Therefore, we recommend that you follow SureShotFX Free signals exactly as they are given. However, it is important to note that no trading system is perfect, and there is always the risk of loss. It is therefore important to trade responsibly and to only risk what you can afford to lose.
Why Choose SureShot FX?
Free:

Our Free Telegram signal channels are completely free to use. There are no hidden charges. You can test our Free signals before you opt for our subscriptions.

Accurate:

Our signals are generated by a team of experienced analysts using a variety of technical and fundamental analysis tools. Our signal accuracy is 85% but do remember that it depends entirely on market conditions.

Profitable:

We have a proven track record of profitability, having generated over 9373 pips in profits for our members since March and an average of 600 pips every week with our US30 signals only!

Easy to use:

We provide clear and concise instructions for each signal, so you can be confident that you are making the right trades.

24/7 Customer Support:

Our dedicated support team is available 24/7 to solve anything you are facing or any information you will need in a jiffy with their proficiency. Contact Support Team
Join for Free US30 Signals Today
Finally, you can take your trading to the next step in a jiffy by simply joining our telegram channel. You'll gain access to 1-3 free indices signals on US30 and NAS100 each week directly from our experts. Because we have no subscription fees, you can benefit from our analysis with zero subscription fee. Now you can trade like a seasoned pro by leveraging our proven, profitable Forex trade signals. No experience required!
🥇Tips & Tricks for Trading:
Before you start trading with real money, it is a good idea to practice on a demo account. This will allow you to test out your trading strategies and get used to the market without risking any real money.
When you do start trading with real money, it is important to start small. This will help you to minimize your losses if you make a mistake.
We recommend that you follow our signals exactly as they are given. However, it is important to note that no trading system is perfect, and there is always the risk of loss. It is therefore important to trade responsibly and to only risk what you can afford to lose.
Risk management is essential for any successful trader. It is important to have a plan for how much you are willing to risk on each trade and to stick to it.
Trading takes time and effort to learn. Don't expect to become a millionaire overnight. Just keep learning and practicing, and you will eventually start to see results.
Use Stop Loss and Take Profit accordingly. A stop loss is an order to close your trade at a certain price if it goes against you. This will help to limit your losses.
Take profit when you have a winner: It is important to take profit when you have a winning trade. This will ensure that you lock in your profits and don't give them back.
At SureShotFX, our commitment to accuracy, reliability, and accessibility has made us a trusted name in the industry. Each of our signals comes with accuracy and clear instruction. You have nothing to lose and consistent profits to gain.
Join our telegram channel today and let our success story become yours. We look forward to analyzing the markets, generating high-probability trade ideas, and helping you achieve your financial goals!