How to Pass FTMO Challenge?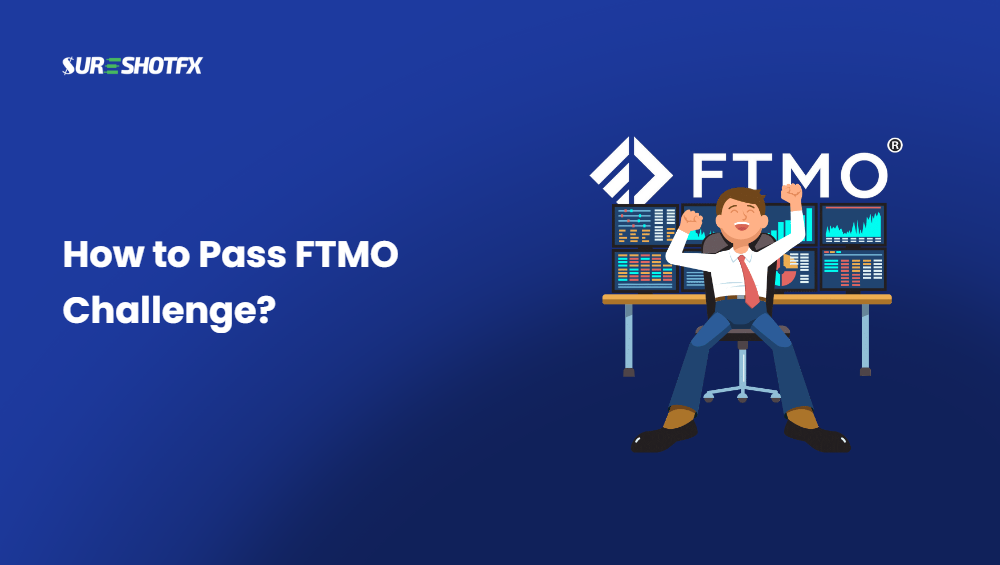 Nowadays, as a trader, you must have heard about prop firm challenges around you. Prop firm challenge refers to the scrutinizing process where an intending trader gets evaluated to see if he or she is qualified to trade with the prop firm's capital and other trading instruments. There are lots of prop firms in the market that offer prop fund challenges to traders. FTMO prop firm is one of them. Before getting into how to pass FTMO challenge, we will have a brief idea about FTMO first.
What is FTMO challenge?
FTMO is a proprietary trading firm that provides funding to traders who demonstrate exceptional trading skills. The firm was founded in 2014 and is based in Prague.
FTMO's trading evaluation process involves a series of challenges and tests designed to assess a trader's ability to manage risk, generate profits, and adhere to strict trading rules. Traders who successfully pass the evaluation are provided with a funded trading account, which they can use to trade in the financial markets. The funding provided by FTMO can range from $10,000 to $300,000, depending on the trader's performance and trading style.
FTMO also offers various trading courses and educational resources to help traders improve their skills and increase their chances of passing the evaluation process. The firm charges a monthly fee for access to its trading evaluation program and takes a share of the profits generated by its funded traders.
If we look at their evaluation process, we can see that they have two phases to pass to be the FTMO trader- FTMO Challenge and Verification.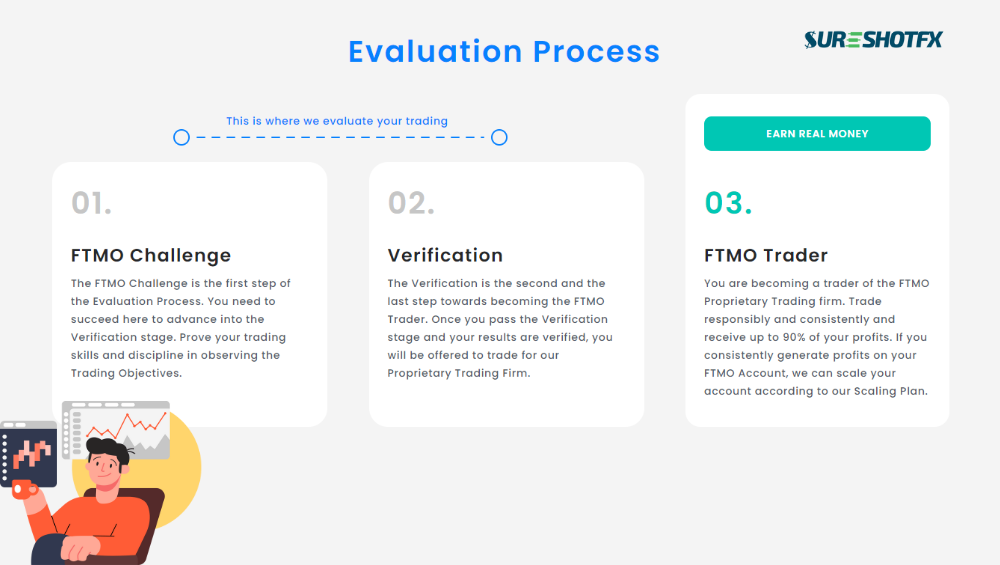 FTMO Challenge Phase– In this step, the trading period is 30 days, and the minimum trading period is 10 days. The maximum daily loss is 5% and 10% for aggressive version from the initial account balance. They also count the floating losses in daily drawdown limit. Here is their counting formula- Current daily loss = results of closed positions of this day + result of open positions. Moreover, the capital of the trading account cannot be decline below 90% of the initial balance. The profit target in this step is 10% of initial balance.
Verification Phase– This is the second and last step of the challenge process. In this step, the trading period is 60 days, and the minimum trading period is 10 days. The maximum daily loss is 5% and the maximum loss is 10% from the initial balance. The profit target in this step is 5% of the initial account balance.
Kindly note that there are two types of risk level- Normal and Aggressive. Drawdown and profit percentages are set based on these risk levels.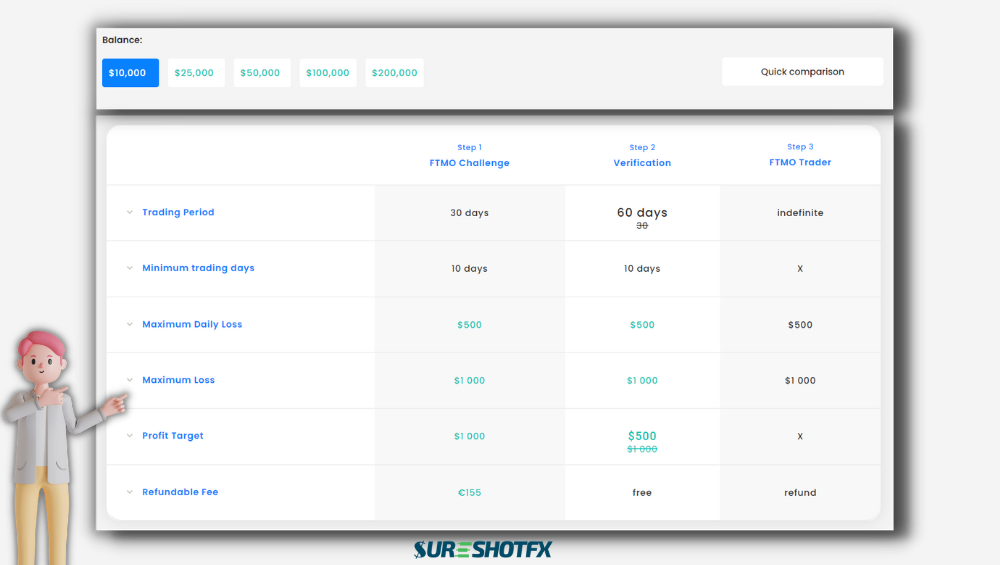 How to pass FTMO challenge?
Passing FTMO prop firm challenge is not easy, but it is not also impossible. There are three major difficulties that traders face during the challenge-
Maintaining the trading objectives and rules
Maintaining daily drawdown (closed loss+floating loss) and maximum drawdown limit properly
Maintaining a profitable strategy to pass the challenge.
The drawdown limit is the common factor that traders fail to maintain during the FTMO challenge. In this challenge, a trader needs to maintain not only the daily drawdown limit but also the maximum drawdown limit. Besides, he/she needs to keep checking the floating losses along with closed losses daily. So many aspects need to be kept in mind! This is why most of the challenge takers fail to pass the evaluation process.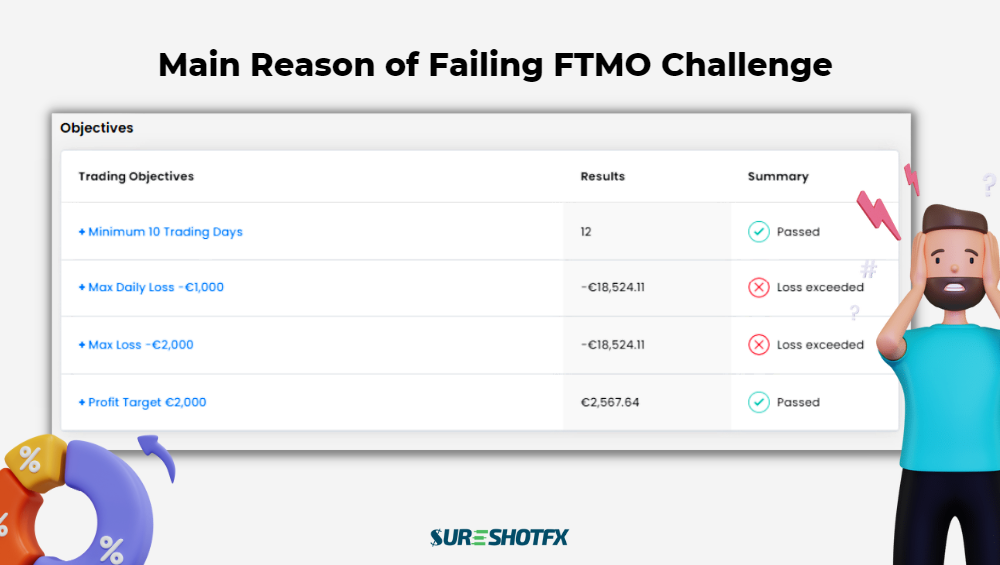 What if there is a solution of controlling your drawdown limit automatically in your prop firm challenge!
You heard it right! SureShotFX has launched an amazing EA called SSF GUARDIAN which has an ability to protect your drawdown automatically.
What can SSF Guardian do?
SSF Guardian helps you to protect your prop firm challenge by automating your limits. This includes
Your Max Drawdown
Daily drawdown
Floating profit/loss
Your limits are displayed directly on your MT4/MT5 screen.
You will be alerted through telegram in case your account reaches your set limit.
You can also close all trades, and check running trades through telegram.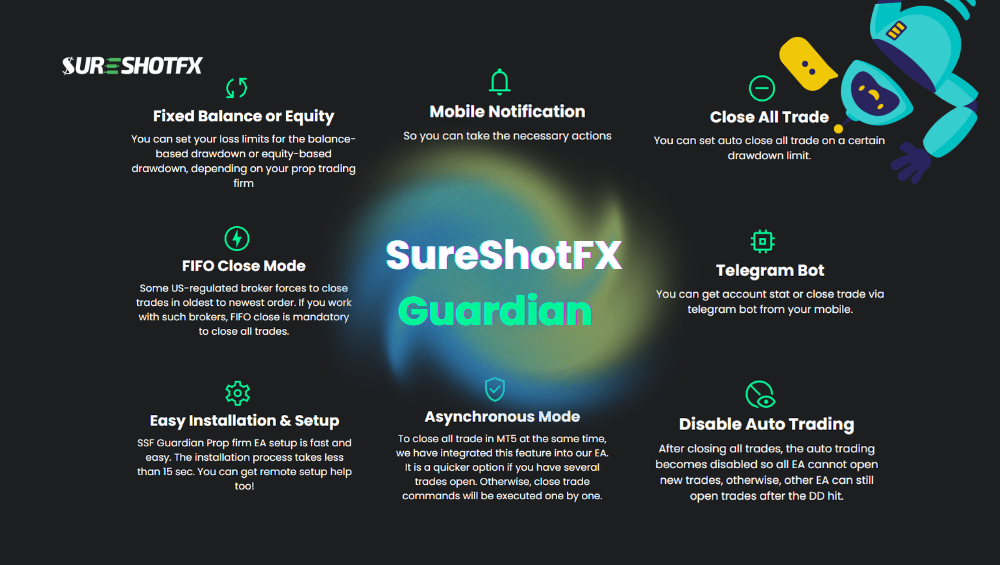 The exclusive features you are going to get on SSF Guardian-
Fixed Balance or Equity
Mobile Notification
Close All Trade
Disable Auto Trading
FIFO Close Mode
Asynchronous Mode
Telegram Bot
Easy Installation & Setup
Passing the prop firm challenge is difficult because as a trader, one needs to maintain a lot of rules and regulations while trading on prop funded account. But it is not impossible to pass the challenge. If you use proper strategy and risk management, you will be able to pass the challenge and here SSF Guardian will make sure that you can control your drawdown limit like a professional. You can contact ssfsupport on telegram anytime with your queries.