My Forex Funds Fiasco: How to Choose Legit Prop Firm?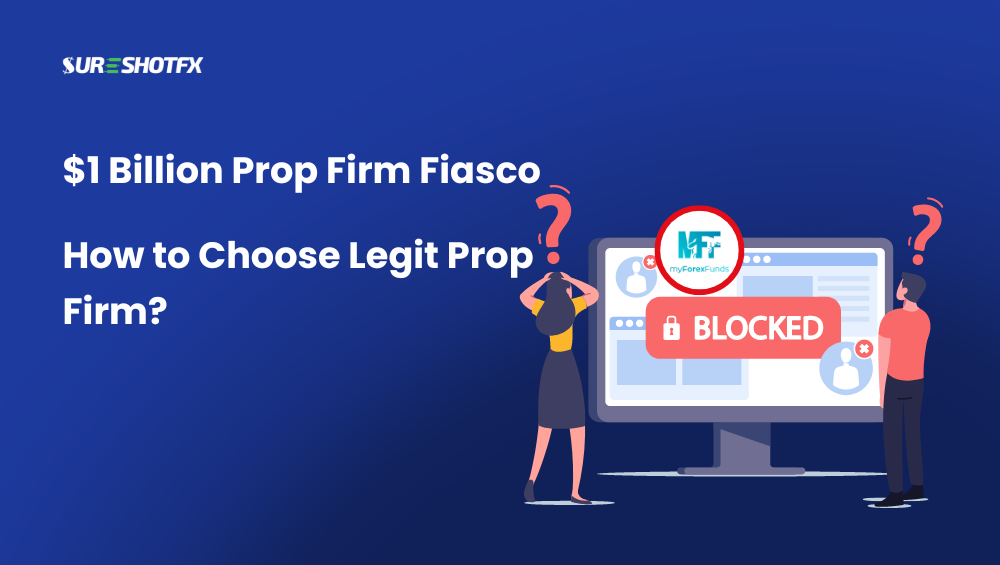 Recently on September 1, 2023, My Forex Funds representatives issued a notice on their website, that securities regulators in Canada and the Commodities regulator in the USA had issued orders preventing them from trading securities or accessing funds in their bank accounts.
Additionally, until these freeze orders are lifted, my forex funds will not be able to conduct any type of business activities. So, they shut down their website along with their discord server the scheduled hearing happens in US court on Sept. 11 & on CANADA court on the same week.
Evidently, negative impression regarding prop industry and prop firm trading has started to grow like wildfire. Thus, the most important question is how you can choose a legit and safe prop firm? In this blog, we will dive into the details of my forex funds case and how to choose legit prop firm.
What were the allegations on my forex funds?
If you don't know the details of MFF charges, let's catch up on it. On Sept. 2, 2023, Ontario Securites Commissions (OSC) issued a notice. It sheds light on the cease orders on MFF & their established company Traders Global Group Inc. (TGG).
TGG was operating a retail foreign exchange and commodities trading firm (without proper registration as a broker which is illegal).
Trading capital is simulated by TGG. They are not providing real funds to traders to take trades.
Placing various rules (Trading conditions provided by prop firms) to benefit TGG to the detriment of investors.
TGG and Kazmi may have used money received from subscription fee to pay simulated "profits" to traders. And for Kazmi's personal expenses.
Misleading information on their websites.
On the very same day, CFTC also issued a press released with the title "CFTC Charges "My Forex Funds" with Fraudulently Taking Over $300 Million From Customers Hoping to Become Professional Traders".
Fraudulently soliciting customers to trade leveraged, margined, or financed retail foreign exchange (retail forex), and leveraged retail commodity transactions.
A restrain order to freeze MFF's all assets and asked them to show their Books and records.
Several violations of law & engaging in fraudulent activities.
Mentioned the hearing date on US court on sept. 11th 2023.
Here is the summary of main allegations brought against my forex funds-
My forex funds uses a specialized software that helps manipulating spread and slippage to make traders lose money. Along with that, they were saying they use third party liquidity providers, they actually didn't have any. The broker they were using was Traders Global Group. It wasn't registered to take part in trading forex or commodities.
So, MFF with the name of Traders Global actively minimized the trade profitably by using pretexts to terminate customer accounts. This also includes misleadingly assessing commissions that reduce customer account equity. They have made 7 million USD in revenue only from charging $3 commissions from MFF traders. That's insane, right?
This doesn't stop here. With the algorithm they have created a process where the more profitable you are, the more reasons MFF will create to avoid payout. Because MFF will lose money when traders make money.
As they use their own broker called Traders Global- they have engaged in deceptive practices to minimize customer profitability. Including terminating accounts, assessing misleading commissions, to execute orders at unfavorable prices, and handicapping successful customers to increase losses.
Hence, TG violated multiple regulations by providing illegal services and soliciting orders from retails forex customers without registration.
Impact on Prop Industry
In other words, the whole prop firm industry is in a shock. Regulatory body was a necessity in a rapid growing prop firm industry. However, after my forex funds fiasco of trading simulated funds, Prop firms like MyFundedFX & The Funded Traders started to mention "simulated funds & profit" on their websites in order to escape the fraudulent charges.
Additionally, this fiasco caused a lot of panic amongst traders. It has also impacted their trust on prop firms.
What Should You Do?
It is quite obvious that My Forex Funds are not coming back. Even if they do, it's not anytime soon. Many other prop firms situated in UK, USA & Canada may also face the same charges. Even though, other prop firms are claiming that they are safe and don't have any similarity with My Forex Funds- the impact will stay & this shall too pass, but the effect is going to last for a long time.
In the meantime, traders should go for old ways of trading with their own funds with brokers or copying signals to make good profits. This lets beginners skip learning how to trade themselves. They make money by piggybacking on the success of professionals.
Is it Safe to Use Forex Signals?
The question of whether forex signals hold value is a common question for individuals in the forex market. Some skeptics argue that forex signals are ineffective, while others actively seek out reliable signal services.
In brief, the answer is yes – forex trading signals can be a valuable investment, particularly for newcomers to the forex or those seeking a passive income stream. Utilizing forex signals offers a straightforward entry point into the forex market and can help trading and make profits. You can also make use of copy trading tools to copy forex signals. Want to know more about it? Check out our full blog SureShotFX Trade Copier: manage forex account effortlessly. – SureShotFX
We've put together a team of six experienced traders who specialize in trading specific currency & gold pairs. This means they can regularly send you signals that are both profitable and accurate. Additionally, we share weekly free signals in our public telegram channel. So, any new trader can experience our signal performance before making any purchase.
Have any questions? Contact https://t.me/ssfsupport