Forex Brokers Review: EightCap in 2023
Welcome to our detailed review where we'll explore an awesome forex trading platform called EightCap. They're one of the top players amongst forex brokers. In this fast-changing forex trading world, EightCap has emerged as a prominent player, with a steadfast reputation for its reliability and trustworthiness. In this blog post, we will dive into the reasons why EightCap should be a preferred option for forex traders.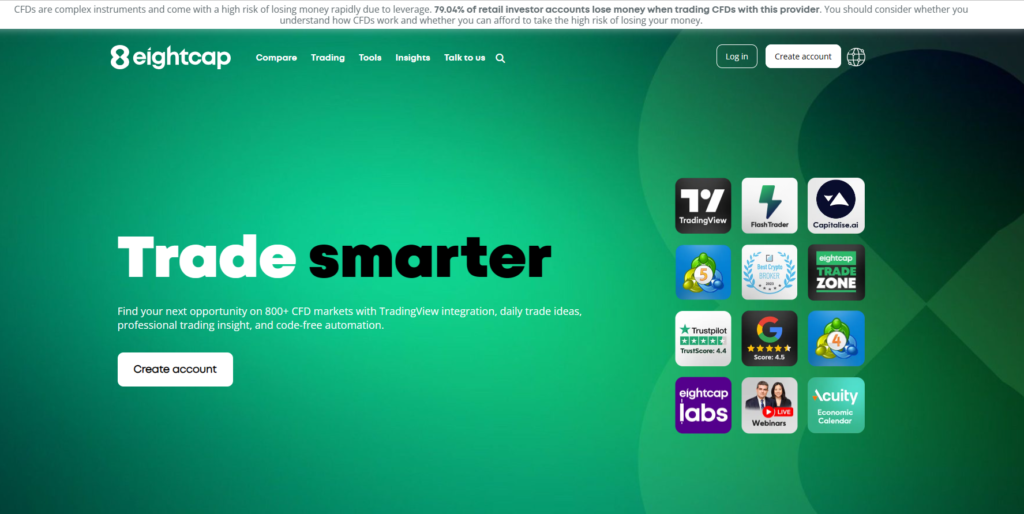 Company Overview
Eightcap is an Australian brokerage company which was founded in 2009. It is regulated by the Australian Securities and Investment Commission (ASIC) and the Vanuatu Financial Services Commission (VFSC). They now have 5 offices across the globe and have a multilingual client support team.
Founded in
2009
Head Office
Melbourne, Australia
Regulated by
Australian Securities and Investment Commission (ASIC)
and the Vanuatu Financial Services Commission (VFSC)
Trading Platforms
MT4, MT5
Minimum Deposit
$100
What Does EightCap Offer?
You might be wondering what special about EightCap or the difference from other forex brokers that will make your forex trading journey easier, right?
Don't worry! We have done our research on several forex brokers and here's the deets-
Trading Instruments and Market Access:
Whether you're an experienced trader or just starting out, forex brokers such as EightCap is designed to cater to your trading needs. With EightCap, you can explore a wide array of trading instruments, allowing you to diversify your portfolio and take advantage of different market opportunities. From forex currency pairs to indices, commodities, and cryptocurrencies, they got you all covered. Their comprehensive range of trading instruments empowers you to trade with confidence and flexibility.
Diversify Your Portfolio and Seize Opportunities with a Broad Range of Asset
In the ever-evolving world of trading, having a diverse portfolio is crucial for success. When your forex brokers allow you to include many different things in your trading plan, it helps you reduce risks and take advantage of different chances to make money in the market.
Having a diverse portfolio means not putting all your eggs in one basket. Instead of solely focusing on a single asset or market, traders can spread their investments across multiple assets. This approach allows for a more balanced and resilient portfolio, as the performance of one asset is not solely responsible for determining overall profitability.
Trading Platforms
Eightcap offers both the MT4 and MT5 trading platforms and two account types. They also offer a web version of MT5 which you can use directly from their site. This web version has all the features of MT5. Eightcap also offers an automated trading tool which is called Capitalise.ai
Trading Account Types
Eightcap is providing two accounts – Standard and raw. Both accounts require a minimum deposit of A$100. Standard account comes with zero commissions, where the Raw account charge is A$3.50 per standard lot. Both accounts have different advantages. You can choose the best account for you according to your preference.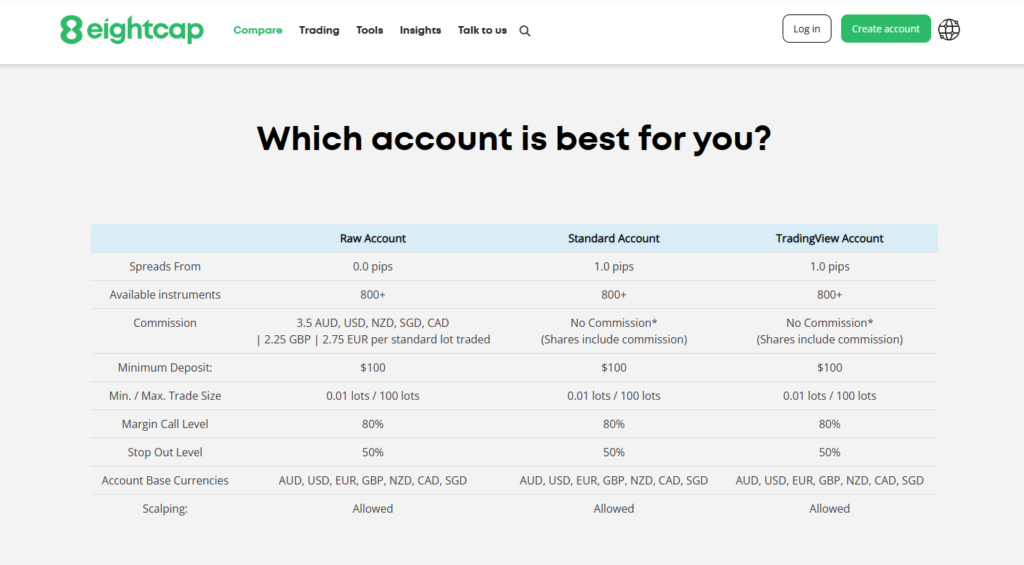 And Why Should I Go for EightCap?
When it comes to selecting forex brokers, forex traders place great importance on the competitive trading conditions offered.
Spread: One of the key factors that traders consider in forex brokers is the spread. At EightCap, they offer their clients highly competitive spreads that can make a significant difference in their trading experience.
At EightCap, they understand the importance of providing their clients with the best possible trading conditions. Forex major, minor and exotic pairs have a minimum 0.0 pips spread. They have shared all the details of the spread here.
Withdrawals: They usually process withdrawals within 24 business hours. Just submit an online form from the client area and Eightcap will start processing your withdrawals request.
Deposits: They have plenty payment methods available for depositing your funds in to your account. They do not charge any internal fees on deposits.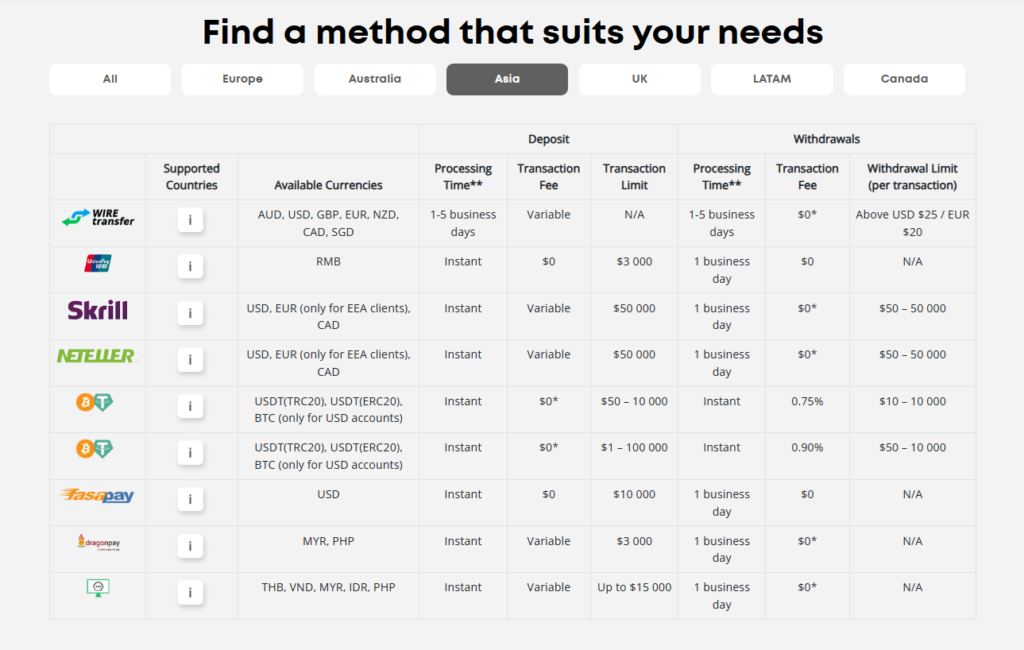 What Makes Them Different from Other Forex Brokers?
Risk management is a crucial aspect of forex trading that should never be overlooked. At EightCap, they understand the importance of providing traders with the right insights and education to effectively manage risks in the dynamic forex market. Their commitment to equipping traders with the necessary knowledge and resources sets them apart from the competition.
At EightCap, they go the extra mile to provide traders with valuable educational resources which covers a wide range of topics, including risk management strategies, market analysis techniques, and trading psychology.
From engaging webinars to comprehensive tutorials, EightCap ensures that traders have access to top-notch educational materials. Moreover, their insightful market analysis provides traders with valuable insights and strategies to elevate their trading skills to new heights.
Will I Get Customer Support When Needed?
When it comes to trading, having reliable customer support is essential. At EightCap, they understand the importance of providing exceptional service to our valued traders. That's why their dedicated customer support team is available 24 hours a day, 7 days a week to assist you with any inquiries or issues you may encounter along your trading journey.
Telephone number – +61 3 8375 9700; +61 3 8373 4800
E-mail – [email protected]
Live chat – Chat service is available on the website
Fore more details, visit – Eightcap Client Support
Regulation and Security
When you are set out to choose forex brokers, regulatory compliance and security is a very important part. EightCap. As we delve into the year 2023, it is crucial to shed light on EightCap's unwavering dedication to upholding regulatory standards and safeguarding the funds of its esteemed clientele.
A regulated broker is needed for the security of your trading account. Eightcap is regulated by ​​both ASIC (Australia) and VFSC (Vanuatu).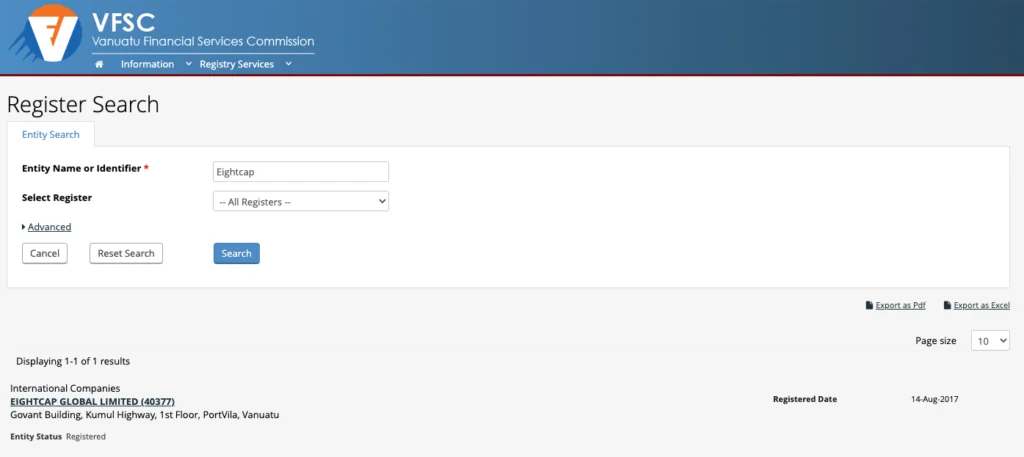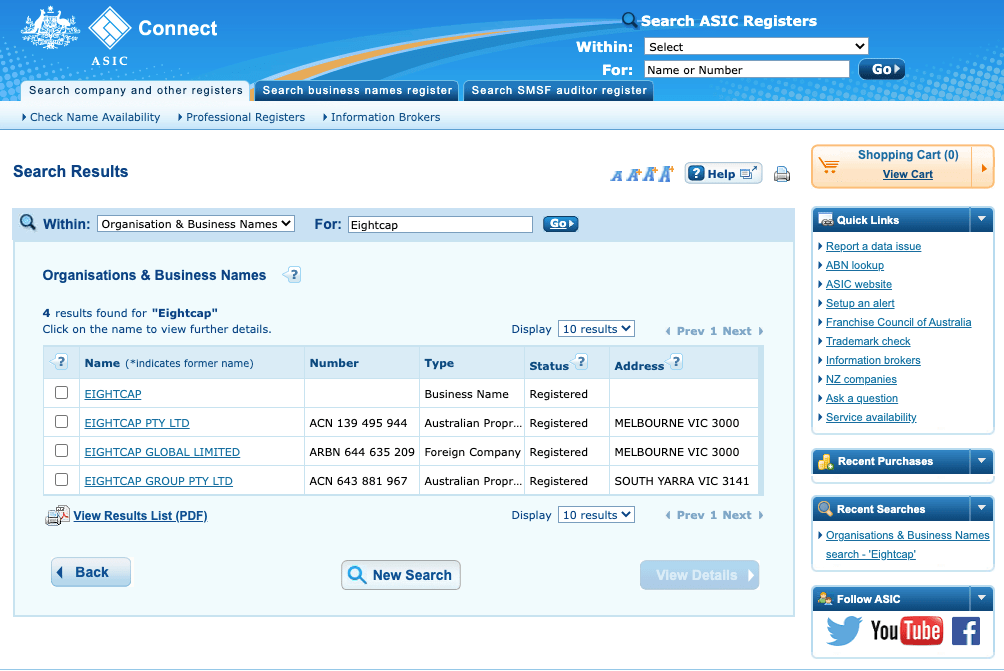 By adhering to the stringent guidelines set forth by regulatory bodies, EightCap ensures that it operates within the bounds of the law, fostering a transparent and trustworthy environment for its clients. This commitment to regulatory compliance not only instills confidence in clients but also showcases EightCap's unwavering dedication to ethical business practices.
Customer Review:
We've looked at reviews from different customers of Eightcap on various websites. Trustpilot is a reliable site where people share their experiences with different companies and services. On Trustpilot, Eightcap has received a score of 4.3 out of 5, which is really good. You can see their Trustpilot score on their website.
We also checked reviews on other websites, and there too, Eightcap got scores of 4.4 out of 5. So, it seems like many customers are happy with their services.
Conclusion
In this comprehensive 2023 review, we have thoroughly examined the performance and offerings of EightCap, leading amongst forex brokers. Through our rigorous analysis, we have determined that EightCap stands out as a highly dependable and esteemed platform, dedicated to meeting the diverse requirements of both beginner and seasoned traders.
If you are an experienced trader or a novice just embarking on your trading venture, EightCap is the ideal platform to fulfill your objectives and dreams. Want to know more about choosing your forex brokers? Check our blog- How to Choose a Forex Broker? – SureShotFX
Sign Up and Happy Trading. 😎