How to Find Best Gold Signals Telegram Channel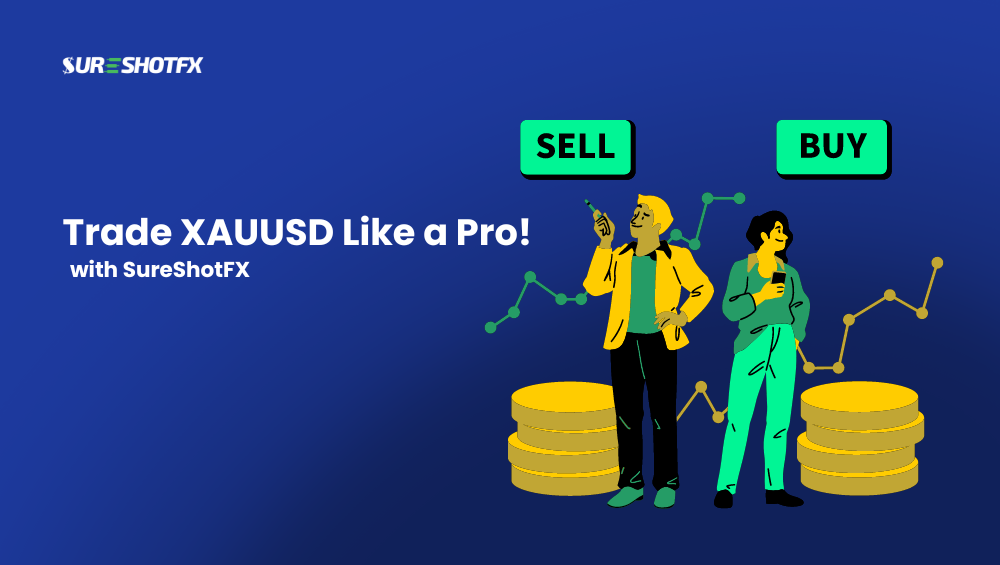 Are you a XAUUSD trader? Finding best gold signals telegram channel is quite difficult-we all know it. And Telegram signals serve as an invaluable support that guide traders to make informed decisions, ultimately leading to good profitability.
If you're in the search for reliable and best gold signals telegram channel, your search ends here at SureShotFX. In this blog, we will share with you the remarkable success of our gold signals. Our dedicated team has worked tirelessly to establish a strong reputation, earning the trust and admiration of our esteemed subscribers.
How to select best gold signals telegram channel?
When it comes to selecting a signal provider, it is crucial to take into account the key factors that play a significant role in determining their reliability and efficiency. So, let's dive into what factors you need to think about and how SureShotFX Gold signals fit into it.
Reputation: First factor that comes up while selecting any telegram signal service is their reputation. And, as a xauusd signal provider, SureShotFX have an unparalleled TrustPilot Rating of 4.3 for Our Exceptional Signals.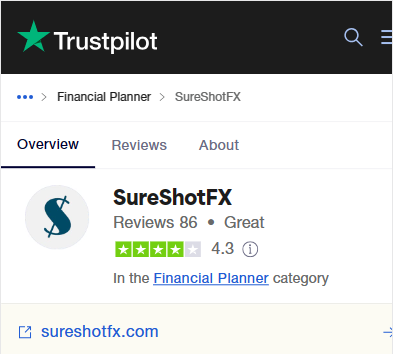 Credibility: When it comes to Forex trading, credibility is key. Traders need a signal provider they can trust, one with a proven track record and an unwavering commitment to excellence. As a signal provider, we are always determined to share how our xauusd signals are performing. So, do visit Forex Signals Performance – SureShotFX page.
Here you can backtrack our previous VIP signals and check positive feedback from our satisfied clients.
Expertise: Our team of experienced professionals with 9 years of trading brings a wealth of knowledge and expertise to the table. If you visit our public channel, our trade team always shares their insights on upcoming market trends and as well as on xauusd VIP signals that were sent to our premium clients.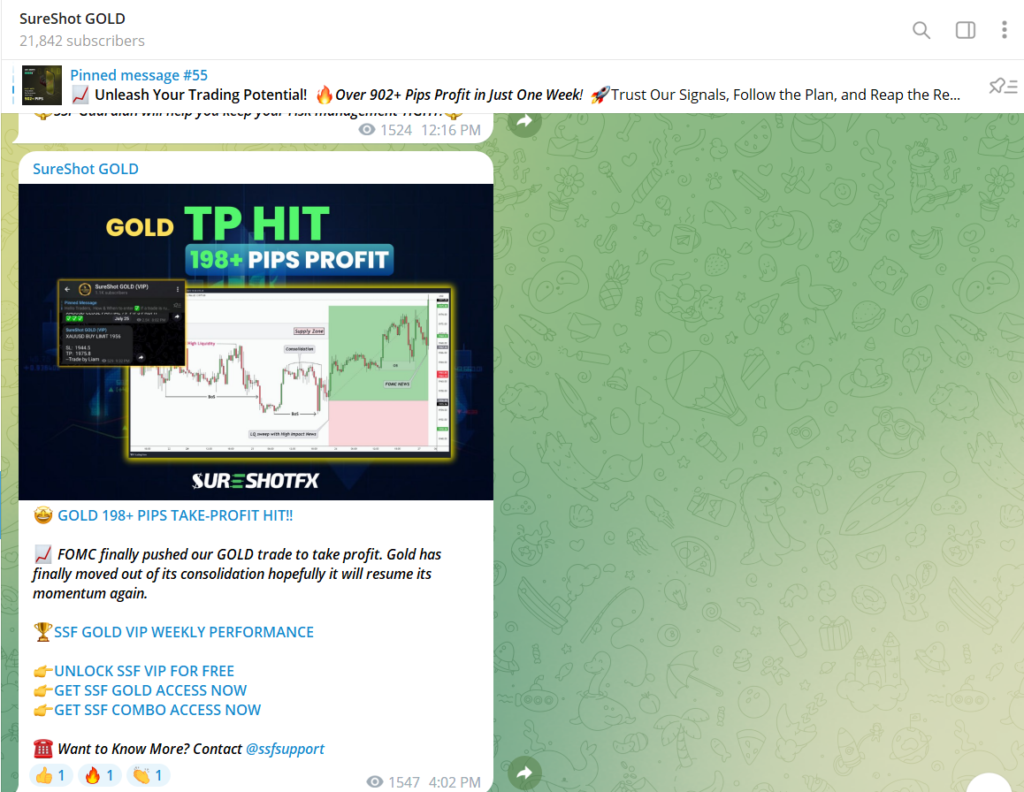 With 3 years of industry experience, we have honed our skills and dedicated ourselves to provide best gold signals telegram and timely signals that give traders a competitive edge. 
Accuracy: At SureShotFX, accuracy is our top priority. We understand that precise xauusd signals are crucial for such a volatile market. Say goodbye to guesswork and hello to one of the best gold signals telegram channel with unmatched precision.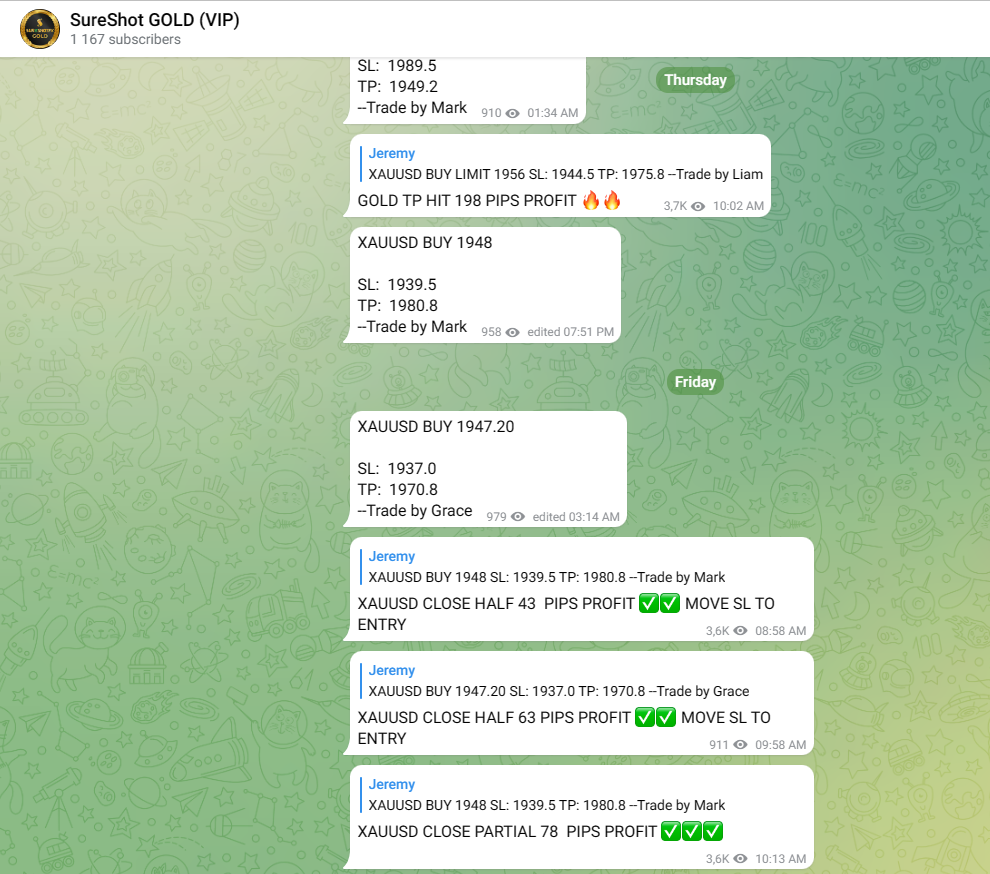 We have up to 85% accuracy when it comes to xauusd signals. Our trade team always sets a weekly target of 500-1000 Pips, and we are dedicated to achieving that. 😎
Transparency: Does everyone show transparency of their performance result? The answer would be huge nay.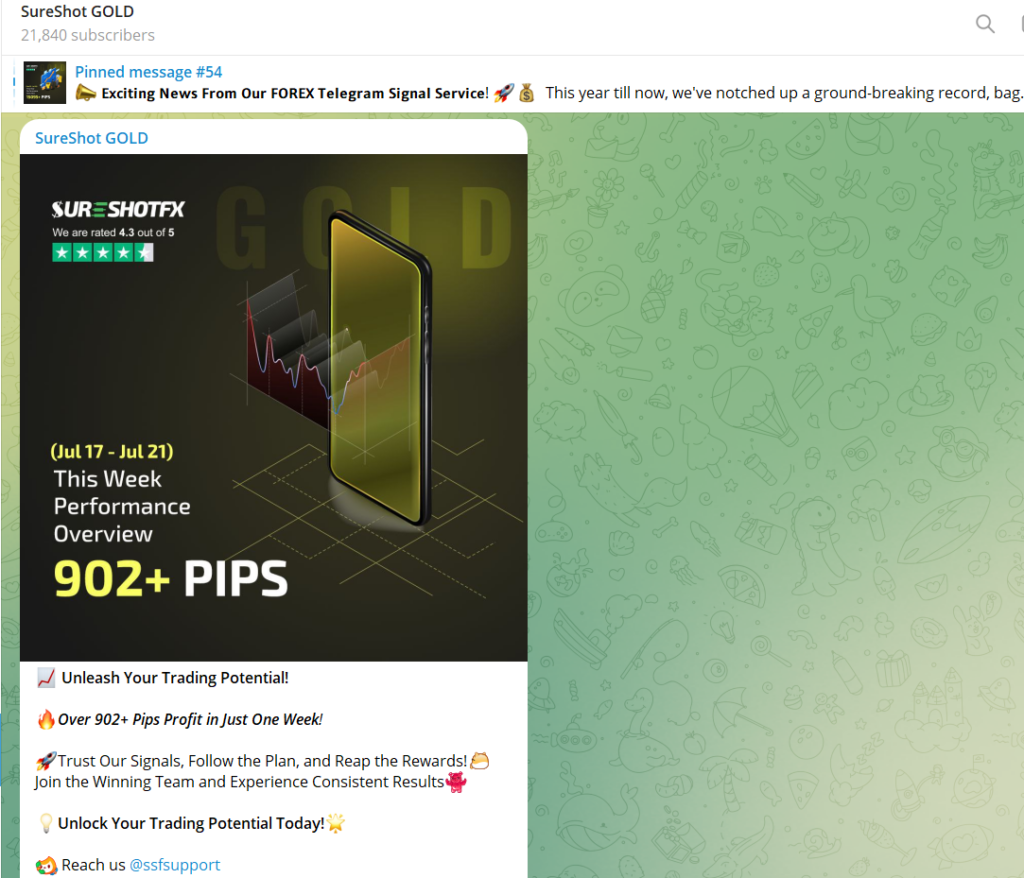 We proudly and powerfully showcase our weekly performance results on our free channel consistently ensuring transparency from our end.
How to Know Our Signals Are Good?
In SureShotFX we provide an extensive range of advantages that truly distinguish us from our competitors. Our carefully curated signals are designed to guarantee profitability. However, we know how any trader would like to test signals before they make a purchase.
Therefore, we provide 2-3 FREE gold signals in our free telegram signal channel each week. So, any trader can test our xauusd signals. Our top priority is to empower traders to gain profits in every way through our exceptional services. And we take immense pride in presenting our exceptional team of trading analysts.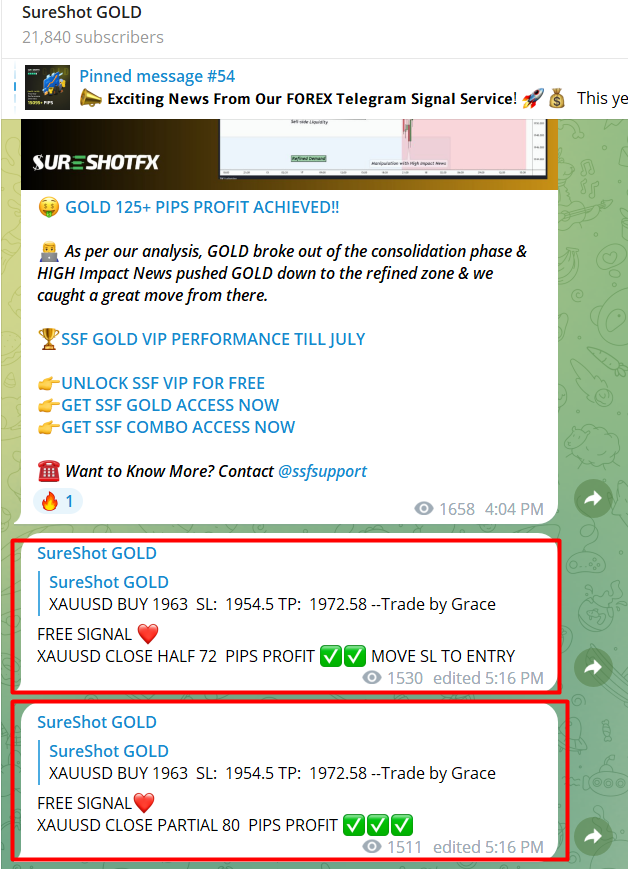 We send our xauusd signals with essential information like Entry Price, Stop Loss, and Take Profit, for you to understand when to enter and when to close. Additionally, we send further trade updates about closing half, partial or full to help you secure profit! And that goes for both our free signals as well as premium signals. Our team is dedicated to providing exceptional accuracy, which sets us apart from the competition.
How Can You Get Our XAUUSD Signals?
We have two ways of joining. First up you can join through our recommended broker which is EightCap and you can avail COMBO VIP Subscription for both Lifetime and for 1 year.
Additionally, you can go for our PAID option where we have curated our offering in 3 segment containing Advance (Lifetime), Pro (6 Months) and Rise (1 Month) from which you can choose according to your preference. GOLD VIP SIGNALS – SureShotFX
Why Should You Be Interested in SureShotFX?
In a market saturated with providers that lack transparency, charge exorbitant subscription fees, and fail to deliver accurate signals, SureShotFX stands out as a beacon of excellence.
With a steadfast commitment to quality and a proven track record of success, SureShotFX has earned a reputation as the go-to choice for traders seeking reliable and accurate xauusd gold signals.
Transparency is a key pillar of SureShotFX's philosophy. Unlike other providers who keep their operations covered in mystery, SureShotFX believes in full disclosure. We believe that our clients deserve to know exactly how our signals are generated and the methodology behind our success.
Subscription fees can often be a major concern for traders, eating into their profits and hindering their ability to succeed. At SureShotFX, we understand the importance of affordability. That's why we offer competitive subscription fees that are designed to be accessible to traders of all levels. We believe that everyone should have the opportunity.

Tip Of the Day: SureShotFX provides free forex signals in their public channel. They send 2-3 free signals every week and theses free forex signals will give you profit!
I Live in a Different Time Zone, Will I Get Support in Time?
Yes, indeed. Get in touch with us at our dedicated support channel on Telegram: https://t.me/ssfsupport. Our dedicated and knowledgeable support heroes are 24/7 there to assist you with any queries or concerns you may have. Don't hesitate to reach out to us.

So, are you ready to take your trading game to the next level? 😎